All good things sometimes have to end. That's the case with the good old Windows 7 that we've all cherished since 2010. This 10-year-old operating system will stop receiving support on January 14, 2020. It is suggested to upgrade to Windows 10 before January to keep your computer secure.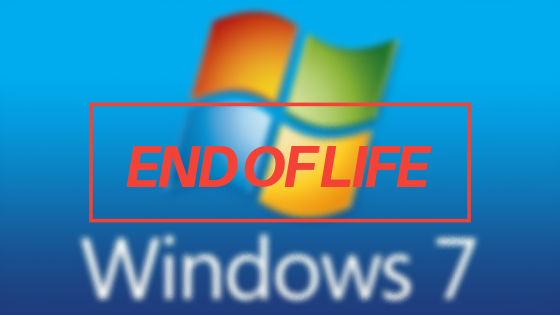 What Does Windows 7 End of Life Mean?
Windows 7 end of life means that Windows 7 users will never receive technical support, software updates and security updates after January 2020. This means that your computer will no longer be secure enough against malware and viruses that may attack your computer. There will also be no bug fixes available for you and your organization.

In Microsoft's blog post last April, Matt Barlow has mentioned that notifications are all sent to Windows 7 users in advance to prepare them for the end of support. Internet Explorer will also be ending support as well because it is also managed by the same team maintaining Windows 7.
What if Your Business Can't Move to Windows 10 Before January 2020?
Nothing will really change to your computer. However, after January you will be exposed to malware and viruses because there'll be no security updates available from Microsoft. As you know, cyber attacks are rampant so they can put your whole organization at risk. Good thing, Microsoft knows that moving to a new operating system will not be easy that's why they have two options for organizations to choose from.

You can purchase the Extended Security Update(ESU) until the 3-year period. However, purchasing the ESU will no longer include bug fixes/patches and help desk support. It was available since April 1, 2019, and will still be available until 2023. When you've decided to purchase this service, you need to pay for the next two years because the update is cumulative starting from January.


The second option is best for organizations who use virtual solutions. Microsoft suggests the Windows Virtual desktop which is a cloud-based platform that can support a multi-user Windows 10 service. It is designed to work with Office 365 ProPlus which also works well Windows 7 Extended Security Update.
Reasons for Ending the Support
Of all the Microsoft's operating systems Windows 7 has been the most loved. It's so good that people still use it over Windows 8. However, in Microsoft's effort to improve Windows 10, they needed to divert more resources to improve its performance and defenses against stronger malware and viruses nowadays.

This end of support, however, was already forecasted already long before the operating system was launched in 2010. Supporting an outdated OS have a number of resources that makes it hard to maintain. Though, Microsoft has mentioned that they may be able to have extended updates only if you will send requests to them.
How Can I Upgrade to Windows 10
It is much better to start upgrading your operating as early as possible so that you can get used to its new user interface and features. You can use either a licensed disk or a thumb drive to install it. Windows 10 Pro is at $95 Windows 10 Home is at $108 in Amazon. Good news is, if you're Office 365 for Business, Windows 10 will be free of charge. Below are the minimum requirements of the Windows 10

Processor:1 GHz or faster
RAM: 1GB for 32-bit / 2GB for 64-bit
Disk Space:·16GB free space
Graphics:· Microsoft DirectX 9 with WDDM driver
One of the differences between the older versions of Windows is you have to have a Microsoft account and access to the Internet to get started with Windows 10. In order to get the optimal performance from your computer, it is recommended to use have a core i3with 2+Ghz processor, 4GB RAM and 60GB hard disk space.
Some people find it more practical to also upgrade their computers that already have Windows 10 installed in it. Since most applications nowadays require higher hardware requirements to run them smoothly.
Biggest Difference of Windows 10 with Windows 7
To prepare you on your new operating system, here a few of the changes that you will experience with Windows 10. From interface to features, it a much-advanced platform that allows you to keep you everything connected.
A Cozier Start Menu
The aesthetic of the Start Menu in Windows 10 will give you a cozy experience with its borderless edges. It still works the way we had it with Windows 7 but it organizes your files alphabetically to make it easier to navigate. You can even customize it to your liking. Though the power button and settings will be found on the left side of the menu.
Cortana: Voice-Controlled Navigation Assistant
The popularity of virtual assistants is also available in your Windows 10. Her name is Cortana. You may find the search bar below your desktop where you can type your instructions to Cortana. It usually shows the results through a new dialog box. Whenever lazy days hit you, there'sCortana to help you out.

Account-based Login
With Windows 10, you needed to have a Microsoft account that can be synced to a lot of services provided by Microsoft including Skype. Unlike in Windows 7, you no longer need to create a separate account for your operating system. This allows Microsft to detect all the activities happening to your account. You'll also notice the aesthetic of the lock screen below.

Windows Defender
The best feature of Windows 10 would be its Windows Defender that proactively secures your computer from viruses and malware, It is more advanced that it can detect suspicious behavior of malware right away. It almost works as a built-in antivirus for your computer. You can control over files that are suspected to contain virus and malware.

Android Phone Integration
The October 2018 update allows you to text from your PC to your phone app. You may even access your phone activities in your timeline. This feature makes work easier for people who are always on the go and works on multiple tasks. So when you're traveling you don't need to carry your laptop all along. You just need your phone and send the important stuff to your PC so that you'll never miss any important idea as soon as you got it.

There are good things that are hard to let go especially if it has been useful like Windows 7. But we need to keep moving forward to experience better services and security from ever-mutating malware everywhere. We hope this article helped you understand why you need to embrace Windows 10 from now on. If you need more in-depth technical advise you may contact our technical experts here. Windows 7 end of life serious and need to be addressed to protect your business ASAP.